I have dear American friends who live in California.  One of their sons has married a girl from Holland and he, she and their two children live in a small town twenty minutes from Amsterdam, called Bloemendaal.
Last November my friends decided to pay a family visit but stay in a local Hotel because their relatives' house was not large, and also they did not want to impose on daily life too much.  Most days they spent doing things together and meeting the family in the evening.  Some days their son's parents-in-law came over and took them out.
I was invited over to spend a week there: I have known the son and his wife since before the children were twinkles in the eye and spent a New Year in Paris some years ago with both the friends from California and the parents-in-law, so we were all acquainted.  However, like my friends, I did not want to tread on anybody's toes, and especially did not want to intrude on special family time.  I was conscious that they are all so kind they would inevitably invite me to everything but I needed to give them some space.  Probably I was worrying too much, but there we are.  So I looked for accommodation in Bloemendaal, close-ish to my friends' hotel but just  a little apart.
As is my wont, I researched carefully: I found Trip Advisor to be excellent and discovered a small hotel which had five stars and four rooms, which advertised B&B (Bed and Breakfast –  usually in a private home for those of you not used to the term) only five minutes walk from my friends' hotel.  It was called the Villa Imhof and this is what I read on its website:
"The villa was built by the well-known architect J.van den Ban in 1902. The hotel is named after the huge Imhof & Mukle orchestrion in the entrance hall. The former residence of this impressive instrument, built in 1885 in the Black Forest, was the Mekanisk Musik Museum in Copenhagen. It has a 64-key mechanism with 288 pipes, bassdrum, snare-drum, cymbal and triangle in a walnut case with an arched top, glazed doors and glazed panels to the barrel compartment."
I was intrigued and pursued the Villa Imhof.  I found that three of the 'rooms' were in fact suites of rooms which sounded lovely, the rates – including a huge breakfast – were more than reasonable, and then I found some photos which people had posted on Trip Advisor.

This photo of Hotel Villa Imhof is courtesy of TripAdvisor
The above photo did give me a few chills: reminiscent of the Adams Family home, only during daytime. Silly of me.  Only, travelling alone, sometimes one does think of all the horror stories one has heard.
And another photo showing breakfast in the conservatory, from      https://foursquare.com/v/hotel-villa–imhof/4be192f88dd062b55a5e3e3c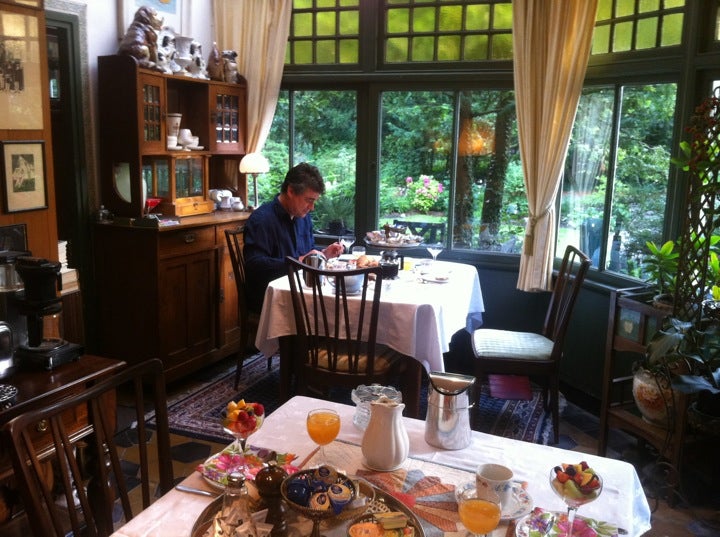 Another website said "If you're looking for somewhere unique to stay, then Hotel Villa Imhof is it! Situated in the leafy,affluent village of Bloemendaal, the villa dates back to 1902 and looks like it should be a film set."
I have M.E. which is not too bad but is persistant and I also have some other medical problems including crippling migraines from time to time, so I really wanted somewhere that I would feel at home in, if I were not able to go out and about for a couple of days. Certainly not some faceless hotel room. I emailed Villa Imhof and got a reply offering me a suite at the basic price, no extras for single occupancy. I was allocated a suite with bedroom, sitting room, bathroom, kitchenette, hall and dining room and an enormous breakfast all for 75 euros ($101.92 or £62.00) a night.
So, I went for it.  After all, anywhere with an organ that huge in the hall must have something going for it.  And eccentric does me just fine.
Next time:  Getting to Bloemendaal,  and trying to find the Villa Imhof!