I have felt hugely supported by those of you who have contacted me.  Thank you so very much.
I have had comments here on the blog, on Facebook, phone calls, emails, and a wonderful bunch of Spring Flowers sent to me through the post.
(Image from Google)
It has been a surprise to realise that some people actually quite value this little blog: very humbling but also so encouraging:)
And you all struggle to improve your part of the world and spread help and compassion as you are able.  It is inspiring.  And although I feel rather self indulgent having written about my own struggles as if I were alone with my feelings it has been hugely helpful to have this concrete proof that I am not alone in feeling thus.
Some of you have explained to me how you manage with these feelings:
Several have said that they find it necessary to keep some distance from events in order to avoid becoming submerged or immobilised by the cruelties and unhappinesses we hear about.
Unfortunately I was born/developed without firm boundaries and seem to be on one end of the empathy spectrum which has become unhealthy for me.  I have always felt a deep connection to, and embedded in, the world around me and find that distancing myself is not an option.
I have heard of instances of friends deliberately 'passing the baton' to the younger generation and allowing themselves to take a back seat after a lifetime of work and struggle to improve situations.
But I was born a fighter: I have always had to fight, I know no other way.  It has got me through some terrible times but it leaves an impossible feeling of impotence when one comes up against a fight that one cannot win.  This is a large part of what is upsetting me at the moment.  I don't understand the point of my existence if I cannot make a difference.
Others blame social media, in fact media in general, for spreading so much hyped news and melodrama.  There is a huge amount of truth in this.  Reading all the petitions that come my way has exposed me to knowledge of injustice and cruelty that I would never have known about without these organisations.  In fact one friend just signs and never reads because she says she cannot survive the huge amount of unhappiness they represent.  Others never sign because they cannot take any more exposure of the harsh side of life.
Based on your and others' comments I have been doing some research.
Professor Nicholas Christakis from Yale (Director of the Human Nature Lab at Yale) makes the point that Networks will magnify whatever they are seeded with.  His research has demonstrated that meanness will ripple through Social Networks, as will altruistic behaviour.  Networks will magnify Ebola and fascism and violence and unhappiness but also they will magnify love and altruism and happiness and information.
He is the author (with James Fowler) of Connected: The Surprising Power of Our Social Networks and How They Shape Our Lives.
Here's his TED talk:
He makes the point that much research (as well as common sense) shows that the people around you influence your behaviour. In fact, they influence it a lot more than you might think and probably more than you're comfortable with admitting.
But here's the really unexpected part: not only do your friends affect your behavior, so do their friends. And their friends' friends. Here's Nicholas:
"Across many different kinds of behavior: voting, cooperation, smoking, weight loss and weight gain, happiness, cooperative behavior, public health behaviors, we and others have been able to show that people are very meaningfully affected by the behaviors of other people to whom they're connected. And here's the kicker: they are also affected by the behaviors of people to whom they're not directly connected.
When your friend's friends quit smoking or your friend's friend's friend become nicer and more cooperative, this ripples through the network and affects you. Similarly, when you make a positive change in your life, when you start running for example, or you participate in our democracy and you vote, it ripples outward from you and can affect dozens, hundreds, perhaps even thousands of other people."
So, these are my thoughts going forward.
Instead of being influenced and manipulated by Media Networks I am going to try to do good and improve what I can through them.  I don't mean that I am going to try to somehow change all you readers of my blog: you regulars are already way ahead of me in trying to do your bit in the world.  But I do want to try to shed the occasional ray of light into dark places and catch some of the occasional visitors here who may not know some of the worst practices.
Instead of being beaten down by all the petitions illustrating tragedy, I am trying to change how I view them: thank goodness for people who are turning a spotlight on these dark parts of life.  They have found out, and are trying to publicize and change, the horrific practices going on.  Without these petitions the cruelties would still continue but unabated and without possibility of change.  I will contribute a small amount where I can and circulate the news and offer emotional support.  Not much, but better than nothing.
I have discovered so many kind, compassionate people in other countries who devote their lives selflessly to helping people and animals.  They have been there working tirelessly, I just did not know about them.  Now I shall search them out on the Internet and through word of mouth, and not be a passive recipient of the News that someone else decrees I should know about.
I have taken out an annual subscription to a newspaper (now in magazine form) called Positive News.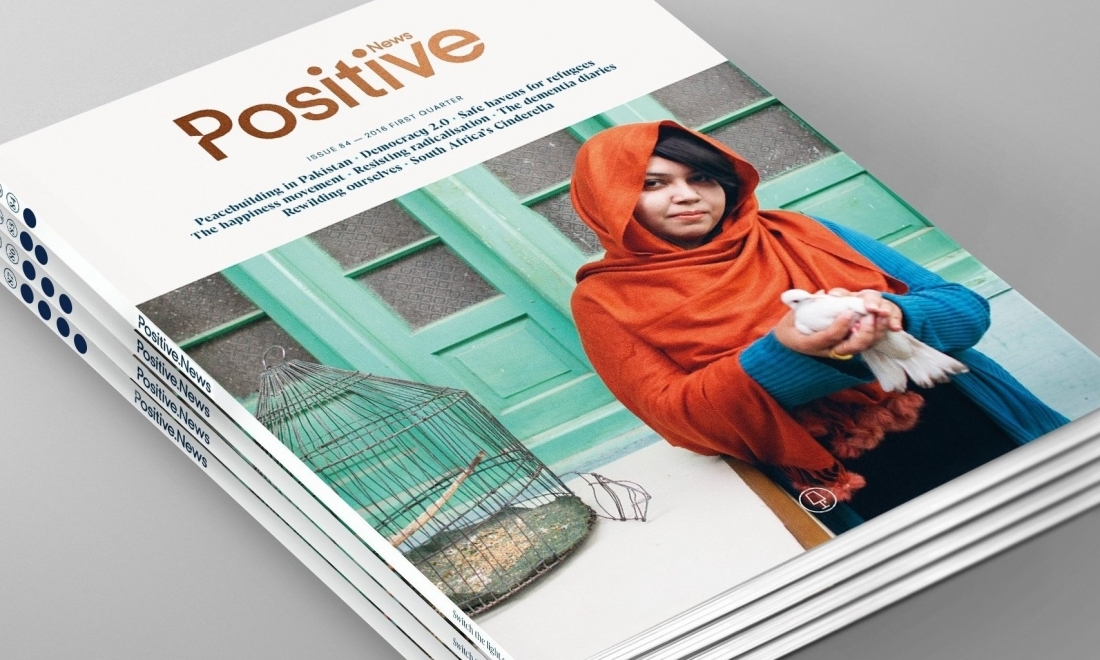 Image from Google
When I first picked it up in a local hospital I was suspicious of the title: is this another bland "Everything is fine, everything will be alright" kind of journal.  But it is not: it was begun by one of our most respected BBC Foreign Correspondents, who went on to become an Independent Member of Parliament, and is now the Patron of the paper.  It just tries to give a more balanced, less dramatic and more informed view of news, instead of regarding good news as no news.  I find it a wonderful counterbalance to the usual stuff pedalled by our 24 hour news culture.
Although I find it a hard fact, everything in this world is recycled eventually, one way or another.  And this includes both human institutions and human behaviour.  Everything tends to decay and corruption and needs to be remade or renewed.  This seems a waste of experience and effort as well as being painful: but it is what happens and I must come to terms with this.  This is why accurate history teaching is essential in education.  So whereas I will do my best to help maintain the good that has been achieved I must accept that the process will necessarily involve some letting-go along the way.
I have been reading about life in the UK in the C10 and C11.  When you could literally not call your soul your own: when you could not decide which crops to grow: where to live: whom to serve: whom to marry: where there were no options for most people: when cruelties and tortures were rife.  We have made progress for the majority of the population in this country although in recent years some of these safeguards have appeared threatened.  The wheels of history grind so slowly.
Despite the bad weather I have made contact with more people than usual, as a result of the adoption of our two Romanian stray dogs:-
1 In my last post I mentioned the kind, unexpected gift from the woman at the call centre for an international hotel chain.
2 When investigating dog harnesses for the car I spoke to the Managing Director of a company.  It turns out that she has adopted strays from Greece and the Gambia and supports a Rescue in Spain.
3 When staying in a hotel with the first of our strays all the staff came over to fuss here and fell in love with her.  A guest passing through saw her harness which mentions the Dogs Trust and complimented us and said she contributes every month.
4  The Dustmen stopped their cart for a chat and wanted to know all about the dogs and what was happening in Europe to unwanted animals and children.
5 At the vets the nurses came and crouched down and were so kind to these poor, mistreated pooches.
6  When out walking people stop and talk and are so interested and kind.
7 I have met the wonderful people who foster these animals as part of their resettlement programme.  These people are not rich but devote their lives to helping others.
8 Friends have come over to help look after our other animals and help me socialise these dogs.
9 The landlady of a pub came over to meet the dogs and to make a fuss of them.  They were welcomed warmly, not turned away as 'unclean'.
10  On several occasions parents of children in a local park have brought them over to make friends saying, "That dog looks like a friendly one".  The care and gentleness of the small children who asked which part the dog would like stroked and could they give them a treat.
I have met all sorts and all kinds of people in the last few weeks: all working people, mostly not well-off, but full of the milk of human kindness.  I have found it to be true, that those who have compassion – have it for all: it is such a fallacy to say that people either like animals or humans.
And religion and culture are not the definition of compassion either: some people from cultures who do not value dogs have been interested and surprised and happy to make friends with our dogs too – despite an initial hesitation.  I have learned about the people working hard in Romania, Greece, Spain and the Far East, to mention just a few, rescuing, treating, combatting cruelty, often at considerable danger to themselves.
Through research I have discovered so much good being done by so many:-
For example, the ex-soldier from the UK who has raised the plight of the lone children refugees in Europe, despite being taken to court for his compassion.
The unfailing efforts of Greek Islanders who leave their own work to pull drowning refugees from the Meditarranean.  Over and over and over again.
The Palestinian men who are striving to rescue their Zoo animals from slow starvation and illness despite the troubles in their own country.
The brave whistle-blowers in Thailand who are slowly winning round their Government to halt the deliberate torture of animals for food.
The people offering free health care, legal advice, physical care and food here in the UK.
It is a disgrace that so much evil is allowed to flourish in the world: but the bad news is totally unrepresentative.  There are legions, literally, of good, kind people, quietly and determindly helping.
They are not sitting back comfortably in the UK as I have been doing, feeling depressed and hopeless.  They are out there working hard.  I am so grateful to have discovered a little about some of them.  They, and you, have saved my emotional sanity.
This blog will go forward, but will try to highlight some of these wonderful people, alongside my own little sorrows and joys.
Thank you, thank you, to all of you, and to all of them.  I'm OK now:)