And we are Boarding.  For a flight to Shanghai, China!!  After so much effort.
Oh, the excitement.
All that history   –  The Boxer Rebellion and The Opium Wars,
The memories of books I heard about in my youth very much from my parents' generation –   Fu Manchu and The Triads.
Murder Mysteries on the Home Service Radio Station about Chinese men with long pigtails in Opium Dens and Paul Temple investigating
and bamboo hats shaped like shallow wigwams.
and people fishing with tame cormorants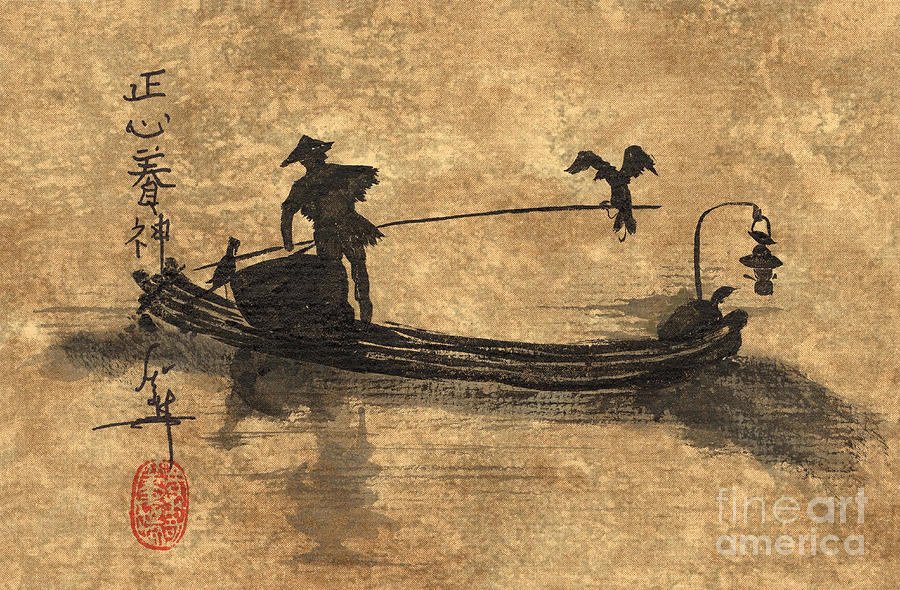 Finally, we're boarding a British Airways flight direct to Shanghai.  Just stepping over the threshold onto the plane had my heart thumping with excitement.
We were met at the door by the delightful Chief Steward called Jamie and I introduced myself as the, hopefully not, 'difficult' passenger who just might need oxygen.  He was very kind and immediately introduced me to the Stewardess who was in charge of my area of the plane and she took me to my seat to discuss the situation.  J. zoomed on down to her seat, which she had managed to change to an aisle seat, which is her preference so she said she was very happy.  My seat was super, a bulkhead seat with more legroom than I could use beside a window!!!
When I had explained that I would only need oxygen if someone used some chemical in the cabin to which I was allergic or when they fumigated the plane,  she brought me a cannister of oxygen and face mask and showed me how to use them and said that if the portable cannister did not deliver enough oxygen then they would use the cabin supply on the plane: then the situation become very embarrassing for me as she asked the young man sitting next to me to please call her if I collapsed and to help me with the oxygen if I needed it. I never wanted to bother unwitting strangers going about their daily lives.  Anyway, he was very decent about it and made nothing of it, and then up popped another man sitting behind me who said he was a First-Aider and would be very happy to help if necessary.  I was mortified.  It was very kind of them.
Then just as we settled into our climb out of Heathrow she asked over the tannoi for people in my area of the plane to please not use hand sanitizer, creams or sprays because they had a passenger who was allergic.  Very sensible and helpful, but more mortification.
Having said all that, it was kind of her to arrange things like she did because an hour or two into the flight, I collapsed.  A man two seats away from me used a sinus spray containing eucalyptus and I was gone.  I managed to let my seating companion know and he helped me get the face mask in place and turn on the oxygen and called the stewardess.  Unfortunately the smell was so strong that the amount of oxygen available could not bring me round, so the air stewardess fixed up the cabin supply for me.  This necessitated going onto the flight deck to ask the Captain to turn it on: then a pipe had to be inserted into the nozzle above my seat and the mask given to me.  This was heavenly and after about 15 minutes or so I was myself again.  Meanwhile she had asked the poor unsuspecting man with the sinus spray to please not use it again: he did not need asking twice, he was so alarmed and immediately went to the loo to wash himself down.  The man beside me said the smell was very strong and on the other man's clothes.  The poor passenger suffered badly from congestion and said he used this spray all the time on all his flights as the only thing which could keep him comfortable.  I felt terrible for him and especially as it was an eleven hour flight: indeed he was sneezing and blowing his nose for the whole time.  While arranging the cabin supply and mask for me I could vaguely hear the man next to me saying what a terrible disability to be so sensitive to such everyday things, as I was.  Once I was myself again I was given a driving lesson for my oxygen: it could not just be turned on and off, it was always something that had to be done from the cockpit.  I was to be sure not to accidentally pull on the pipe or dislodge it or the cabin would de-pressurize and everyone else's mask would descend.  Golly!!
While all this was being set up Jamie came back from First Class to assess the situation and then and there emailed the flight staff on the plane on which I would be returning to give them his assessment and explain my needs.  How very kind and how efficient.
Then meals were distributed.  Oh dear, the message about gluten free had not been transferred from the original flight to this one.  She looked in Business Class and First Class but nowhere could she find a special gluten free meal.  She could offer me a plate of lettuce but that was it.  Then the young man beside me said that really was not good enough on a flight of over eleven hours: I produced some corned beef which had been left over from my vouchers from the night before, she produced the lettuce and we found a salad dressing.  That was lunch.  Later on she came back and said she had found two dishes in First Class, one was chicken with salad, the other was salmon and potatoes, "were they all right for me?" I leapt at them and said absolutely so she kept these two for me for later on.   I have to say they were absolutely delicious and I had no idea airplane food could taste like that.
Later in the flight the young man beside me became talkative for a while, about his Grandfather.  About how had just died a week before and how he did not know how to grieve as it was his first death.  We had a rather serious conversation which he later said he had found helpful and then we both reverted to our previous occupations: he catching up on films, me following maps, reading, writing my diary, going to speak to J and look out of the window.
After leaving London our journey took a shallow arc across Europe and Russia to turn SE from Novosibirsk down across Mongolia to Shanghai. Basically flying across Denmark, Southern Sweden, Moscow, Kazan, Chelyabinsk, Novosibirsk, Ulaan Baatar (Ulan Bator), and down to Shanghai.
Five hours in to the flight and we hit darkening skies: I managed an hour's doze but as we flew on I became far too excited to sleep more, following the route and getting up frequently to have a drink and look out of the rear door window as mine was over a wing.  I always like a plane when it is dark and most people are asleep: the staff are quiet, there are plentiful drinks available at the rear of Coach and usually some interesting people to go and talk to about their travels.  I have never been further East than the Urals and as we passed over the Ural mountains  and then onto the Western Siberian Lowlands, past Chelyabinsk and on towards Omsk and Novosibirsk I found it hard to contain myself.  I noted that we were passing north of Bukhara, Samarkand and Tashkent – all names of Romance and Mystery – names to conjure with. From Novosibirsk, as we flew SE into Mongolia across the Altai Mountain range to Ulan Bator (which gave very noticeable turbulence) I noted that we flew south of my beloved Lake Baikal (on which I wrote a Research Paper some years ago).  From Ulan Bator the plane made a decided turn SSE and flew down to Shanghai.  When you are on a plane which takes hours and hours to fly across a country, you realise quite how vast that country is.
And then, we landed, early. Saturday morning, 7.30 a.m.
I was half way round the world and in China.  Unbelievable.
The usual pouring of people from the plane ensued, retrieving luggage etc etc but I did not rush and stopped to thank all those who had helped me and said I would write to BA to comment on how well I had been looked after.  I had felt safe and cared for, which had been so relaxing, and I was truly grateful.   The First-Aider behind me said that he was very rusty and most relieved not to have been needed!!
J and I followed the herd and went to Passport control where we were kept very firmly in control by a man in a suit who choreographed our placement behind a yellow line as we waited for an Officer to check our papers: no way could we decide which queue was the shortest or which desk seemed the obvious next one to go to.  He was whipping those Westerners into shape.
We began to get rather apprehensive.  Passport control was serious, no smiling or talking. Then on to Customs: as we charged in a gaggle across a large hall we were fascinated to see a crocodile of beautifully smart and disciplined members of staff marching, yes Marching, to work, under the eye of a senior officer.  All smiling and looking very happy, but definitely marching military style. Gosh.  Golly gosh.
The Green Channel was closed to us, although open to returning Chinese.  Seemed strange to me.  We were herded through the Red Channel where every single piece of luggage was sent through the scanner.  As we queued I saw our BA flight staff sailing through a special channel just for them, and feeling very anxious about my medical case in particular, I envied them.  As my luggage went through the scanner I had to go through a scanner too: and not an eyebrow was raised, not a question asked, only a minor pat down.  And we were through. I was speechless, everything seemed topsy turvy and illogical.  But no matter, keep on walking.
As we exited into the arrivals concourse there was a young woman waiting with a broad smile and a sign with our names on it: this was Ci Ci, our guide for the day who had been drafted in on her day off to look after us since we were on a different, later flight.  And the first thing she said, "The Tour to Shangzhou has waited for you so that you do not miss it, you can leave your luggage with me and go straight off:)"