Two weeks ago I had another MRI scan.
According to the measurements on the second Radiologist's report the tumour has shrunk by nearly 1/3rd. In only four months!!!  I was thrilled to bits, assuming that some of all the measures I have been taking, have had an effect.
Then last week I was down to see my Consultant at the Royal Marsden for a follow-up appointment in which we were due to discuss dates for surgery.
Because of my various chemical allergies surgery is problematic for me.  In the euphoria following the second MRI scan I had been hoping to postpone surgery for a good while, and perhaps even change the nature of any operation depending on how much more the tumour might reduce.
His Registrar said that she thought the tumour had not grown much.  Grown? Grown?  Excuse me?
Then the Consultant himself came in and said that things were much the same as before.  WTF?
I mentioned the differences in measurements in the Radiologists's reports but was told that it was because they assumed that different places had been measured.  But my Consultant had not seen the MRI scan, only read the report.
Surely a Radiologist would use some kind of positioning system so that all future scans could give an accurate measurement of any changes, or what is the point?  Surely a health professional would be incredibly careful since surgery could depend on his/her readings?
I am/was confused.
BUT, somehow the whole tenor of the consultation was different from my last one.  Suddenly the urgency, the drastic nature of treatment, all were changed.  I was asked if I would be happy to wait for surgery and let them monitor the situation for another four months.
Since this was exactly what I wanted, I was happy to agree:)
So, what do you think was going on?
Personally, I think that they could not believe the apparent reduction since they had not seen this before.  But have they had a patient with this type of cancer who has done the things I have?
At least this is what I need to believe.
But I am rather unhappy and confused: some validation would have really helped as the things I am doing are not easy and it is a lonely struggle swimming against accepted health opinions.
Still, onwards and upwards.  I have great excitements coming up soon as I leave for China on Thursday 5th October.  Even writing this sounds unbelievable.  And checking through all my travel documents today has thrown me into a fever of anticipation.  I am going with a friend as my husband is not interested in going to China: we begin in Shanghai for a few days, then fly to Wuhan where we get on a river boat to cruise up the Yangtze for five days passing through the Three Gorges en route.  After that we disembark at Chongqing, fly to Xian to stay, then fly on to Beijing for several days.  Amongst other things we hope to visit the Panda Breeding Station, the Terracotta Warriors, the Great Wall and most of the other usual tourist sites with, hopefully, some less usual sites thrown in too.  And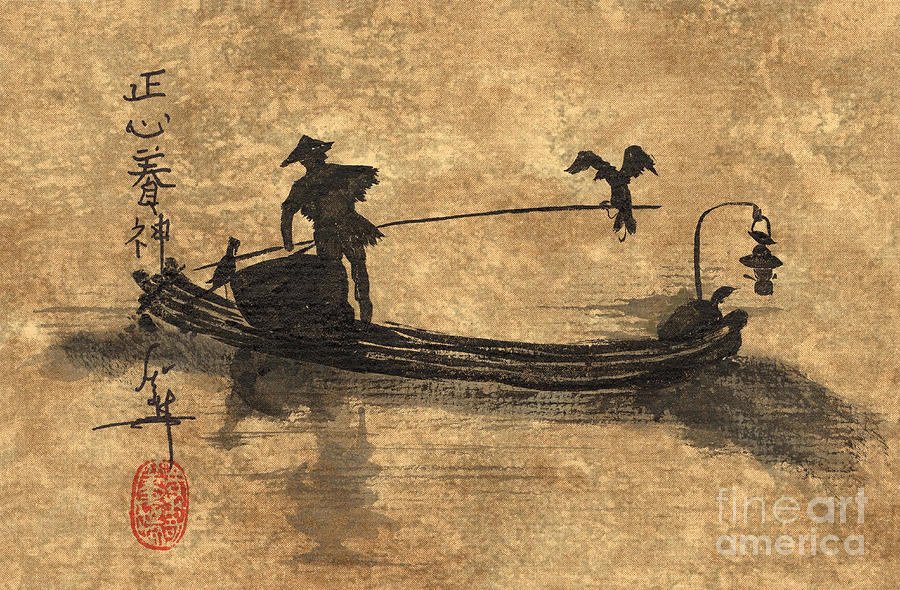 I so hope to see a fisherman with his tame cormorant sitting on his shoulder!!
When I was given my diagnosis in June this year, I was resolved that come what may, I shall stand on the Great Wall of China during my lifetime.  I postponed surgery from a suggested date in July until this trip was accomplished and now it looks as if it may even happen.  Gosh, I am so, so lucky:)  🙂
(Brochure picture from Viking Cruises 'Imperial Jewels of China' Tour.  Their copyright.)